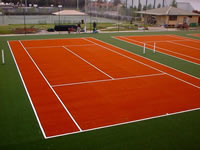 For the private back yard court we offer a complete design and construction package including design and set-out, to drawing plans and obtaining council permits where required.
Attractive landscaping and a selection of different retaining wall designs are our speciality. Please see our pictures page for futher images of our work.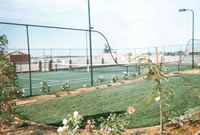 We will efficiently complete tree removal, earthworks, drainage, fencing, lighting, landscaping, court accessories, and prepare the site on completion so that the customer can enjoy the new court
All of our work complies with the Department of Infrastructure "code of practice" for tennis court development.
All our work is covered by a materials, parts and labour warranty.